Thriving with Hope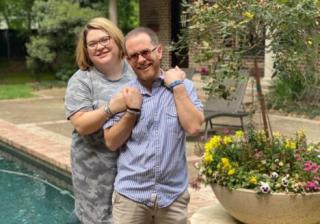 By Peyton, Anaplastic Ganglioglioma Survivor, CanCare Client

I was diagnosed with malignant, anaplastic ganglioglioma in October 2019. I had the tumor removed in November 2019. This type of brain cancer is very rare, accounting for approximately 1 – 2% of all brain tumors. I had thirty sessions of radiation (December 2019 – January 2020) and have been having MRI's every three months.
I joined a support group through Methodist Hospital. The group was great but I needed more personalized support. Two of the group members are CanCare volunteers and referred me to CanCare. They were very proud to be volunteers for such an organization.
CanCare connected me with Link, a support volunteer that had brain cancer as well. We are "cancer thrivers". I remember meeting with Link at Starbucks and sharing my story with him. We chatted for over two hours and he is a great listener. Link also shared his journey of being diagnosed with brain cancer and the many obstacles he has overcome. He has such a positive attitude and has replied to all of my personal messages. He encouraged me to have hope despite the statistics. Our conversations were genuine and they gave me hope. Link is a true inspiration!
I am slowly learning that we as cancer thrivers need a community that understands our challenges and the journey of various medical tests, doctor visits, treatments, etc. CanCare connects people with similar experiences. It reassures cancer thrivers that we are not alone and are on this healing journey together. CanCare provided me with a lot of great information and I could feel that the people I spoke with truly cared about my mental and emotional well-being. They provided the support I need to move forward with my mental health. I am a proud supporter of CanCare!
Without CanCare, I think I could still be searching for someone that understands my specific challenges and perhaps would still be struggling with how to move forward.