How You Can Help During Leukemia Awareness Month
Find out ways to lend a hand and show your support during Leukemia Awareness Month in September!
As the
10th most common cancer diagnosis
in the U.S., leukemia affects hundreds of thousands of people and their loved ones daily. During September, CanCare wants you to join in showing support for those living with Leukemia. Here is some information you may not have known about this type of cancer and ways you can do your part to raise awareness during Leukemia Awareness Month!
---
What are Leukemia and Lymphoma?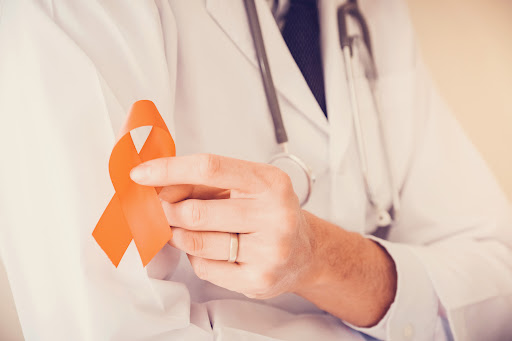 Leukemia is a form of cancer that develops in the tissues like bone marrow, which causes the production of blood cells that enter the bloodstream. The blood cells grow and divide atypically, overproducing white blood cells that do not function correctly. The two main types of leukemia are chronic and acute, and both have different subtypes.
Chronic Leukemia
Usually develops slowly, the symptoms of this type are not immediately apparent. Instead, the signs become noticeable as the number of white cells increases. The three subtypes are chronic lymphocytic leukemia, small lymphocytic lymphoma, and chronic myeloid leukemia.
Acute Leukemia
Generally, acute leukemia worsens faster than the chronic type, as the cells multiply faster. This form of leukemia has two subtypes, acute lymphocytic/lymphoblastic leukemia, and acute myeloid leukemia.
---
Why Raising Awareness During September is Important
Every 3 minutes, someone in the U.S. is diagnosed with a blood cancer, according to the
Leukemia and Lymphoma Society
. In addition, blood cancers are some of the most deadly forms of cancer, which makes research for treatments vital. Participating in Leukemia Awareness Month during September is the best way to contribute to educating others about this type of cancer while boosting funds for much-needed research in hopes of making significant advancements in the future.
The most common symptoms that people facing leukemia experience are swollen lymph nodes, swelling in the abdomen, frequent infection, easily bleeding, fevers, and bone and joint pain, just to name a few. The more widespread this knowledge becomes, the more people can stay informed about their health and look out for their loved ones.
---
Show Support During Leukemia Awareness Month
Are you unsure about what you can do to show support during Leukemia Awareness Month? Luckily, there are several ways in which you can help spread and educate others about leukemia and lymphomas in September:
Wearing orange shirts, ribbons, or other attire is a great way to show support in September.
Post on social media to spread information about leukemia, or sharing your personal experiences and how it has affected you is another way to participate.

Donate to organizations like CanCare

, which dedicate themselves to helping those facing Leukemia and other types of cancer.
Attend an upcoming event in your area, or sponsor an event.

Starting a fundraiser

of your own for leukemia research is another way to make a positive impact during September.

---
Get Emotional Support Through CanCare
No one going through a leukemia diagnosis should have to face it alone. The tight-knit community at CanCare consists of volunteer survivors and
caregivers
with the experience and training to give you the emotional support you need during this difficult time.
Our mission is to connect those facing leukemia and other cancer diagnoses in the Houston area and across the nation with a survivor who once went through a similar journey to the one they now face, providing an irreplaceable part of their support system. So, if you are looking for a community that can offer
emotional support while facing cancer
, or want to
volunteer to help a fellow survivor
, CanCare is your home!