28th Annual CanCare Golf Classic and Celebration
Lakeside Country Club
100 Wilcrest Dr
Houston, Texas 77042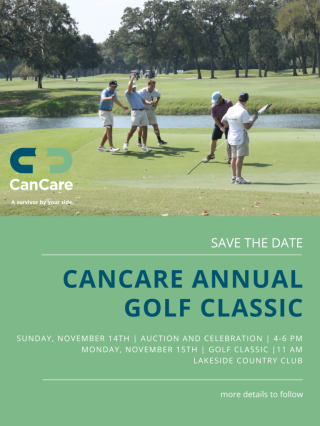 Mark your calendars for the 28th Annual CanCare Golf Classic and The PARty BeFORE Celebration! We'll kick off this year's events with an auction and celebration at The PARty BeFORE on Sunday, November 14th from 4-6 p.m. and tee off the next morning, Monday, November 15th at 11 a.m. Click the links below for more information on sponsorship opportunities! Questions? Email us at events@cancare.org.

Event Chairs: Kelly and Aaron Wolf
Honorary Chairs: Titus Harris, III and Jeff Zinn

Golf Teams & Sponsorship Opportunities
The PARty BeFORE
Fund the Mission
Thank you to our CanCare Golf Classic Sponsors!
Gold Sponsors
Childress Capital Advisors
The Dacus Family
Latipac Commercial, Inc./ Sylvia & Titus H. Harris, III
Doris & Terry Looper
White & Case

Silver Sponsors
Yvonne & Tim Conklin
The H.G. Ash Foundation
Houston Methodist
Elizabeth & Cullen Kappler
Megan & Jonathan Parker

Bronze Sponsors
Sandra & Jeff Beno
Terry Boffone & Dan Hardin
Susan & Kirby Greteman
Jamie & Robert Harris
Tyler Harris & Aaron Wolf
Infinity Hydrocarbons/ Karen & Wade Jones
Trey Lewis/Brian Caddell/Will Houstoun/ Chris Kolkhorst
Lumato
Murphy & Spears Families
Plains All American
Tindall England
TNT Crane & Rigging, Inc.