8th Annual Jimmy Pappas Sporting Clay Shoot
Greater Houston Sports Club
6700 McHard Rd.
Houston, Texas 77053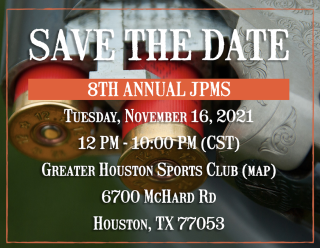 When someone like Jimmy Pappas leaves this earth, he leaves behind a wonderful legacy of friendship, kindness and loads of laughter-filled memories. After Jimmy's battle with cancer ended in 2011, a group of his close friends decided to honor Jimmy's legacy by creating an opportunity to bring all of his friends, family and colleagues together to share endless memories involving Jimmy's love of life, adventurous spirit and get it done attitude. In addition, the founders wanted the event to have a philanthropic mission: To provide financial support and access to educational and informational programs supporting patients and their families, who currently suffer with cancer-related illnesses.
Join us in celebrating the life and legacy of Jimmy Pappas with a day of sport clay shooting contests and betting, raffles and auctions worth over $250,000, all topped off with good food, great drinks, and even better people.
All proceeds benefit the Sunshine Kids Foundation and CanCare, two amazing organizations that support those suffering from cancer-related illnesses and their families.
12:00 PM 10:00 PM
Greater Houston Sports Club (map)
For pricing and to register, click the link below.
Sign Up — Jimmy Pappas Sporting Clay Shoot (jimmypappasmemorialshoot.com)
Participants must bring their own equipment. Included in the registration fee are eye and hearing protection, ammunition, golf carts as well as drinks, dinner, and an auction valued at more than $250K dollars following the shoot. Entertainment only registration is available for those who do not wish to partake in the shoot.
Sponsorship of teams, donations, donation of auction items are all welcomed. Please see our Donate and Sponsor page for more information.
12:00pm – Lunch served by sponsor Total Safety
12:30pm – Registration opens
1:30pm – Welcome and safety briefing
2:00pm – Main event begins
4:00pm – All scores turned in
4:30pm – All scores posted and betting begins
After your team finishes make sure not to miss out on mulligans and flurries while scores come in before the shoot-off starts!
5:30pm – Shoot offs begin
6:00pm – Dinner begins
6:30pm – Live Auction starts
8:00pm – Adjourn
All bidding for our silent auction and all purchases of auction items, mulligans, flurries, and betting will be through our online portal. You can even get texts to let you know when someone outbids you, or get updates on certain items you have your eye on!