2022 HOPE Survivorship Luncheon
CanCare's Annual HOPE Survivorship Luncheon
Westin Houston Memorial City
945 Gessner Rd
Houston, Texas 77024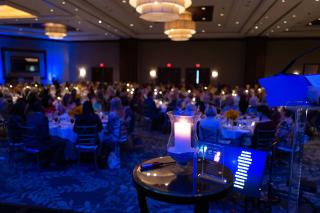 We invite you to join us for the 2022 CanCare HOPE Luncheon: Celebrating Cancer Survivorship on Friday, May 20 at 11:30 a.m. at The Westin Houston- Memorial City.

Each year, CanCare hosts this inspirational luncheon to celebrate cancer survivors and their caregivers, as well as remember those who courageously faced cancer and are no longer with us. We hope that you will join us and consider sponsoring this heartwarming event for this incredible mission of providing a survivor by the side of anyone facing cancer.

Luncheon Chairs
Jordan Seff and Kelley Lubanko

Luncheon Speaker & Healthcare Honoree
Ishwaria Subbiah, MD

Corporate Honoree
Oceaneering International

Survivor Honoree
Rochelle Griffin

Host Committee

Sponsors who commit prior to our print deadline of April 4, 2022 will be listed on the invitation.

If you are unable to attend the luncheon, we encourage you to sponsor a table to gift to our incredible volunteers or make a Fund the Mission gift in the honor of someone special to you. All gifts are greatly appreciated as we continue our mission to ensure no one faces cancer alone.

If you have any questions or need additional information, please contact events@cancare.org.

Luncheon Tickets & Sponsorships
Donate to Luncheon
RAFFLE
Thank you to our 2022 Survivorship Luncheon Sponsors to Date!

Radiating Inspiration Sponsor
Jordan Seff and Kelley Lubanko

Igniting Hope Sponsor
Houston Methodist

Guiding Light Sponsors
Shelaghmichael Brown
Friend of CanCare
Meredith Marshall/ Natalie Mohtashami
Oceaneering International

Sparking Strength Sponsors
Vanessa Ames/ Andrea Espinosa/ Iva Knobbe/ Brooke Lee/ Luvi Wheelock
Bank of Texas
Jim Braniff
Sylvie Crum
Linda Eyles
Debbie Festari/ Dr. Sippi Khurana/ Shawntell McWilliams
Barbara and Peter Forbes
Sylvia and Titus Harris/ Sue Harris
H-E-B
Hildebrand Fund
Cindy and Bob Holloway
DeeDee Marsh/ Kelli Weinzierl
Susan Sarofim
The University of Texas MD Anderson Cancer Center
Stephanie and Frank Tsuru
Hallie Vanderhider
Megan Vondra
Kay Watson
Westwood Wealth Management
Julie and Keith Williams

Candlelighting Ceremony Sponsor
Dr. Creighton Edwards/ Michael Fife

Giving Tree Sponsor
Donna and Norman Lewis

Shining Faith Sponsors
Ilene Allen
Priscilla Angly
Allegiance Bank
Amegy Bank
Congregation Beth Yeshurun
Heidi Dugan
Cecilia Edwards
Friends of Nancy Moore
Katherine Gillman
Vicki Grams
Cindy Greenberg/ Vicki Rabin
HCA Houston Healthcare North Cypress
Johnson, DeLuca, Kurisky & Gould, P.C.
Memorial Drive Presbyterian Church
Kim Price/ Diana Woodman-Hammet
Nancy and Irving Stern
Stuart P.C.
Drs. Ishwaria and Vivek Subbiah
Tootsies
Kathy Wells
White & Case

Thank you to our 2022 Survivorship Luncheon Host Committee!
| | | | |
| --- | --- | --- | --- |
| Ilene Allen | Mindy Hildebrand | Leigh Smith | |
| Amanda Boffone | Hillary Holmes | Lynn Smith | |
| Leisa Holland-Nelson Bowman | Loretta Horowitz | Kristina Somerville | |
| Kristy Bradshaw | Sippi Khurana, MD | Karen Stall | |
| Heather Bulk | Marie Louise Kinder | Elizabeth Stein | |
| Kristen Cannon | Whitney Kuhn Lawson | Nancy Stern | |
| Yvonne Cormier, MD | Donna Lewis | Ishwaria Subbiah, MD | |
| Sylvie Crum | Renee Lewis | Ileana Treviño | |
| Megan Cushing | DeeDee Marsh | Stephanie Tsuru | |
| Heidi Dugan | Meredith Marshall | Christine Underwood | |
| Cecilia Edwards | Shawntell McWilliams | Kara Vidal | |
| Stacy Ellington | Natalie Mohtashami | Megan Vondra | |
| Linda Eyles | Denise Monteleone | Kay Watson | |
| Margaret Farnsworth | Kimberly Price | Kelli Weinzierl | |
| Debbie Festari | Mimi Prioleau | Kathy Wells | |
| Allison Filkerski | Shelley Reeves | Luvi Wheelock | |
| Vicki Grams | Carolyn Roch | Diana Woodworth | |
| Suzanne Hardman | Lisanne Rogers | Diana Young | |