29th Annual CanCare Golf Classic and The PARty BeFORE
Memorial Park Golf Course
1001 E Memorial Loop
Houston, Texas 77007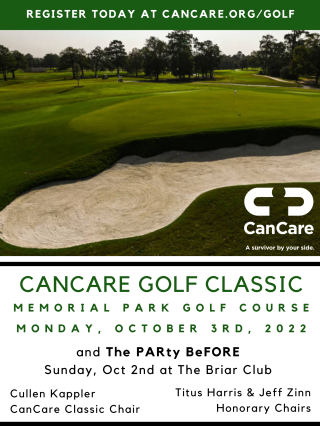 Mark your calendars for the 29th Annual CanCare Golf Classic and The PARty BeFORE Celebration!

We are making a BIG move this year to Memorial Park Golf Course: Home of the Houston Open! We will play on Monday, October 3 - just weeks before the PGA Tour comes to town.

We'll kick off the festivities on Sunday, October 2 from 4-6 p.m. at The PARty BeFORE at The Briar Club.

We expect a SOLD OUT tournament this year, so reserve your team today!

Click the links below for more information on sponsorship opportunities! Questions?
Email us at events@cancare.org.

29th Annual CanCare Golf Classic: Monday, October 3 @ Memorial Park Golf Course
The PARty BeFORE: Sunday, October 2 @ The Briar Club
Event Chair: Cullen Kappler
Honorary Chairs: Titus Harris, III and Jeff Zinn
Support the 29th Annual CanCare Golf Classic!
Golf Team Sponsorships

Tournament Sponsorships
(non-golfing sponsorships)

The PARty BeFORE
You don't have to golf on Monday to join us for the fun on Sunday!

Fund the Mission
Can't join us, but want to support the cause? Make a donation!

Download a Sponsor Package

Thank you to our 29th Annual CanCare Classic Sponsors to Date!

Gold Sponsors
Johnny Carrabba Family Restaurants
Childress Capital Advisors
First Horizon Bank
Sylvia & Titus Harris, III/ Latipac Commercial, Inc.
Elizabeth & Cullen Kappler
Tri Coastal Trading
Linda & Steve Webster

Silver Sponsors
Central Bank
Yvonne & Tim Conklin
The H.G. Ash Foundation
Houston Methodist
Megan & Jonathan Parker
Resolution Companies
Shearman & Sterling LLP
Truist
White & Case, LLP

Bronze Sponsors
Paul Edmonds and Michael Pinion
Susan & Kirby Greteman
Grit Oil & Gas
Jamie & Robert Harris
Infinity Hydrocarbons/ Karen & Wade Jones
Kestrel Capital, LP
KLX Energy Services, LLC
Lewis, Houstoun, Kolkhorst, & Dillingham
Ley Development Co, LLC
PARty Boyz

Caddy Sponsor
Tellepsen

Hole in One Sponsor
Westside Lexus/ Northside Lexus

Contest Sponsors
Sue Harris
Highland Threads
Oceaneering International
Stephenson Fournier PLLC
Village Medical

Golf Cart Sponsors
Friends of Cullen Kappler
Johnson, Deluca, Kurisky & Gould, P.C.
Kirksey Architecture
Slosburg Family
Tindall England, PC

The PARty BeFORE Sponsors
Sylvie & Gary Crum
H-E-B
Liskow & Lewis
Stephanie Tsuru
Gleeson Van Riet

Special Thanks
Phil Ditto/ PDS Corporate Sales
Francisco & Co
Friends of CanCare
H-E-B
Memorial Park Golf Course

Thank you to our 29th Annual CanCare Classic Committee!
| | | |
| --- | --- | --- |
| Cullen Kappler, Chair | Titus Harris, III, Honorary Chair | Jeff Zinn, Honorary Chair |
| Mark Holmes | Taylor Landry | Trey Lewis |
| Rick Ngo | Michael Wiesenthal | Aaron Wolf |
Thank you to The PARty BeFORE Committee!
| | | |
| --- | --- | --- |
| April Gore | Michael Grossman | Kindall James |
| Justin Pribble | Alma Shields | |
| | | |