2023 HOPE Survivorship Luncheon
CanCare's Annual HOPE Survivorship Luncheon
River Oaks Country Club
1600 River Oaks Blvd
Houston, Texas 77019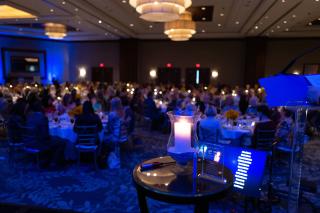 We invite you to join us for the 2023 CanCare HOPE Luncheon: Celebrating Cancer Survivorship on Wednesday, May 10 at 11:30 a.m. at River Oaks Country Club.

Each year, CanCare hosts this inspirational luncheon to celebrate cancer survivors and their caregivers, as well as remember those who courageously faced cancer and are no longer with us. We hope that you will join us and consider sponsoring this heartwarming event for this incredible mission of providing a survivor by the side of anyone facing cancer.

Luncheon Chair
Stephanie Tsuru

Honorary Chair
Frank Tsuru

Survivor Honoree
John L Nau, III
Chairman & CEO, Silver Eagle Beverages

Community Honoree
Roslyn Bazzelle Mitchell
Founder, RBM Law Group

Healthcare Honoree
Esmaeil Porsa, MD, MBA, MPH
President and CEO, Harris Health System

Luncheon Speaker
Ashley Dedmon, MPH, CHES
Director, National Breast Cancer Roundtable
Advocate, Speaker, Author, and Previvor

Host Committee Chairs
Sippi Khurana, MD
Shawntell McWilliams
Beth Wolff

Sponsors who commit prior to our print deadline of March 27, 2023 will be listed on the invitation.

If you are unable to attend the luncheon, we encourage you to sponsor a table to gift to our incredible volunteers or make a Fund the Mission gift in the honor of someone special to you. All gifts are greatly appreciated as we continue our mission to ensure no one faces cancer alone.

If you have any questions or need additional information, please contact events@cancare.org.
Thank you to our 2023 Survivorship Luncheon Sponsors to Date!

Presenting Sponsor
Stephanie & Frank Tsuru

Radiating Inspiration Sponsors
Bobbie Nau
John L. Nau, III

Igniting Hope Sponsor
Donna & Norman Lewis

Guiding Light Sponsor
Tena & Tyson Faust

Sparking Strength Sponsors
Lesha & Tom Elsenbrook
Cindy & Bob Holloway

Shining Faith Sponsors
Titan Management - Mandy Kao
Tootsies

Thank you to our Incredible 2023 Host Committee!
| | | |
| --- | --- | --- |
| Leisa Bowman | Kristy Bradshaw | Cheryl Byington |
| Kristen Cannon | Sandra Smith Cooper | Mel Edwards |
| Lesha Elsenbrook | Tena Lundquist Faust | Debbie Festari |
| Jane Gillis | Rochelle Griffin | Mindy & Jeff Hildebrand |
| Christine Johnson | Mandy Kao | Evelyn Leightman |
| Donna Lewis | Kelley Lubanko | Shelley Ludwick |
| Meredith Marshall | Sneha Merchant | Denise Monteleone |
| Bobbie Nau | Leila Perrin | Heidi Rockecharlie |
| Jordan Seff | Leigh Smith | Elizabeth Stein |
| Ishwaria Subbiah, MD | Ileana Treviño | Phoebe Tudor |
| Stephanie von Stein Schusterman | Megan Vondra | Kelli Weinzierl |
| Michael Wiesenthal | Cynthia Wolff | |