Stage 4 Online Support Group
Join us the 3rd Friday of each month for a support group dedicated to those with a stage 4 cancer diagnosis.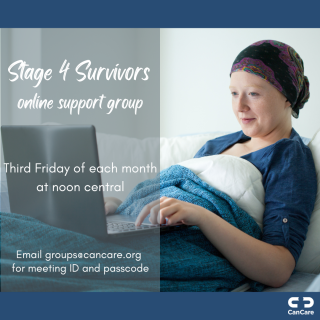 You are invited to join us for sharing and support among the community of cancer survivors living with stage 4 cancer. You don't have to face cancer alone. Join others living with advanced cancer in a circle of support.

Our CanCare Online Support Group is a professionally facilitated, peer-led support group for people living with a stage 4 cancer diagnosis. You'll hear from a CanCare volunteer who is also living their way through advanced cancer, and others on the journey.

At CanCare we consider anyone living with a cancer diagnosis, you, a survivor. We will celebrate the victories, share the challenges and bear together the emotional impact of being a survivor.

This is an online meeting via Zoom. Email groups@cancare.org for meeting ID and passcode.