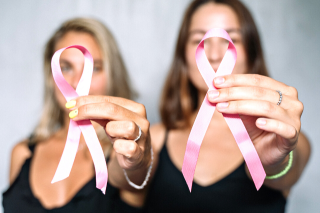 About Breast Cancer
According to the
American Cancer Society
, 1 in 3 people will be diagnosed with cancer in their lifetime. Breast cancer is the most common cancer diagnosed among US women and has a high survival rate, depending on the stage and type of breast cancer. With increases in medical technology, we now know a lot more about breast cancer and the different subtypes of breast cancer.
Throughout the history of breast cancer, many subtypes have been discovered. The different types of breast cancer include inflammatory breast cancer, triple negative breast cancer, triple positive breast cancer, HER2+ breast cancer, and Ductal carcinoma in situ, or DCIS, which is one of the most common breast cancers.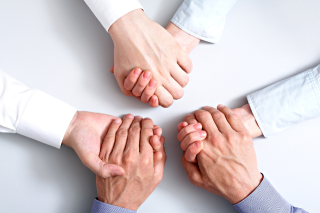 There is another type of breast cancer called Metastatic Breast Cancer, which means once someone develops cancer, the cancer spreads. The cancer cells move from the primary location to a secondary location in the body, which, according to breastcancer.org, happens to about 30% of women who have developed breast cancer. The parts of the body that are at high risk of infection from cancer are the liver, brain, bones, and lungs.

Trying to understand the type of breast cancer that you are dealing with and what that means can be like trying to learn a new language in a foreign land. You shouldn't have to face breast cancer alone, especially when you're dealing with the symptoms of breast cancer. The cancer support community consists of in-person breast cancer support groups, online breast cancer support groups, support from other breast cancer survivors, and survivorship programs and centers. All of these resources are filled with breast cancer survivors who know exactly what you're going through. With the proper care and emotional support, your quality of life does not have to be put at risk. You are not alone!
Get Emotional Support with CanCare
You are not alone.
Are you in need of breast cancer support? You've come to the right place. CanCare can provide a survivor by your side as you navigate your breast cancer journey. Our cancer support community at CanCare has nearly two hundred
volunteer cancer survivors
who have been specially trained to provide
support to those facing breast cancer in Texas
and across the nation. Our breast cancer survivors have experience with inflammatory breast cancer, metastatic breast cancer, triple negative breast cancer, triple positive breast cancer, in situ breast cancer, ductal, lobular, DCIS, LCIS, HER2+, estrogen positive and progesterone positive and metastatic breast cancer. We have volunteers who are survivors of all breast cancer stages.
Our diverse community enables us to connect you with a survivor whose experience with cancer subtype, stage, and treatment is similar, if not the same, as yours. We invite you to join us by requesting to be matched with a breast cancer survivor who will give you the support you need.
Having emotional support can have powerful effects on your cancer treatment outcomes.
Connect with a breast cancer survivor
today for one-on-one emotional support!
If you are a stage 4 breast cancer survivor and you are searching for breast cancer support groups online, join us for our online Stage 4 Survivors support group on the 3rd Friday of each month from 12PM – 1PM, Central time. This online support group is dedicated to supporting the survivors of all Stage 4 cancers.
Contact
groups@cancare.org
for more information and the link for the group.
CanCare also accepts prayer requests for anyone who needs them. If you or a loved one is facing breast cancer,
submit a prayer request
, and we will pray for each person every week!
Breast Cancer Resources
Building a support network is an important part of cancer support. We recommend starting to build your support network by requesting a breast cancer survivor match.
---
Here are some additional breast cancer support resources that may be of help to you:
FAQs About Breast Cancer
There's no right or wrong way to feel after you receive a breast cancer diagnosis. You'll most likely go through many emotions including shock, fear, anger, disbelief, and more. All of these feelings are normal, and there are people and resources ready to help you!

According to the CDC, most women are 50 years old or older when they are diagnosed with cancer. It's uncommon for women in their 20s and 30s, but it can happen, which is why all women need to get regular breast cancer screenings.

Something as life-changing as a breast cancer diagnosis can cause a wide variety of emotions. It's not uncommon to feel depressed, anxious, scared, uncertain, angry, or alone when you receive this type of news. This is completely normal, and the most important thing to remember is that you are not alone!

We provide emotional support for breast cancer patients by connecting you with a survivor whose experience with breast cancer type, stage, and treatment is similar, if not the same, as yours. We invite you to join us by requesting to be matched with a breast cancer survivor who will give you the support you need.

Get matched here!

We also offer an online support group for those facing stage 4 cancers. Our online Stage 4 support group meets the 3rd Friday of each month from 12PM – 1PM central time. Contact

groups@cancare.org

for more information and the link for the group.

Yes! With our large community of breast cancer volunteers we can usually connect you with someone who has experience with a similar, if not the same, treatment. Though we do not provide medical advice, your volunteer can share her experience with you.

Yes, we have a large number of volunteers who are survivors of

triple negative breast cancer

. They are an amazing testimony of hope and available to walk beside you on your journey.

Cancer affects everyone you love. Often, your family wants to support you, but they might not know how to help you. Here are

10 tips on how to help someone with cancer

. Share them with your family, so they know how to support you!
See what our clients are saying
"I contacted CanCare and spoke to a woman who had faced and won the battle I was fighting. I felt so uplifted and re-energized to continue fighting and accept what was happening."

...

View Full Story
"One morning while in Houston Methodist Hospital for transplant, a CanCare volunteer knocked on the door. He sat and shared with Ron and Ina about his time not just in the same hospital, but in the very same room as Ron! That day they found a new best friend in this CanCare volunteer. Ron and Ina both took a deep breath, seeing a survivor walking and sharing his story and listening to theirs. It was uplifting for both and gave them a sense of hope."

...

View Full Story
"I am a proud supporter of CanCare! Without CanCare, I think I could still be searching for someone that understands my specific challenges and perhaps would still be struggling with how to move forward."

...

View Full Story
"As a client of CanCare and as a caregiver, I felt witnessed and heard. My CanCare mentor-volunteer was actually an ovarian cancer survivor. Usually, CanCare ensures cancer patients are matched up with survivors and caregivers are matched with caregivers. I am grateful to this day for CanCare's creativity in pairing up a volunteer survivor with a caregiver client."

...

View Full Story
"Nargis has been a pleasure to talk to. She is so sweet and kind and I really enjoy hearing about her experience compared to mine."

...
"My Cancare volunteer became my friend I love and appreciate Kim!"

...
"I deeply appreciate your help and talking with Wanda has really been helping me through this diagnosis and in sorting through my thoughts and feelings. She is kind, listens, is very comforting, and a wonderful person."

...
"This is a great program you have. Nothing like support from someone who really knows what you are going through."

...
"I am so grateful and thankful CanCare matched me with Claudette who had kidney cancer in 2001 and has been cancer free all these years. She gave me so much hope and assuaged all my fears about the surgery and outcome. We talked over an hour the first time and we have stayed in touch since my surgery Sept 20. Claudette and I continue in stay in touch and we hope to meet for lunch when I am feeling better. I have already referred a friend to CanCare. She is about to have a double masectomy. Thank You for your program. I am the first in my family to have cancer so had so many questions I forgot to ask the day I received the results of my CT scan."

...
"I am forever grateful for Anthony, Tom, and Greg. All have in their own special ways helped me deal with a very difficult situation. Anthony is my rock. Someone who stays in contact and always provides support and encouragement. Tom reaches out and listens to me, and talking helps tremendously. Amazingly, Greg and I share doctors and have the same cancer. Being able to talk with someone who is on a very similar journey brings me comfort and peace."

...
"My volunteer met with me for several hours over coffee to talk about her fight and answered so many questions I had about my daughter's diagnosis."

...
"I thank you very much for offering this service. It help me when I was overwhelmed with my husband's cancer."

...
"Brenda in Texas is kind and understanding. She gave freedom to contact her anytime. She always gets right back in touch with me. Thank you for having this service available to us cancer patients who live with the unknown. Brenda has wonderful faith that rubs off onto me. Thank you again."

...
"I am just starting my journey with cancer. My volunteer has been great. Thanks for connecting us!"

...
"Wonderful organization and excellent and compassionate service for both staff and volunteers."

...
"My volunteer has been a great help to my wife (tongue cancer)."

...
"She's been a huge blessing to my life, amongst this worldwide crisis. I can't wait to meet her in person when this is all over (or passes us.)"

...
"Trish was the best I couldn't have gone through this without her!"

...
"This is a must! So needed so valuable."

...
"The response by your team when I reached out was immediate and amazing. I felt their interest and caring was totally sincere."

...