You are Not Meant to Face Cancer Alone
Connect with CanCare to have a survivor by your side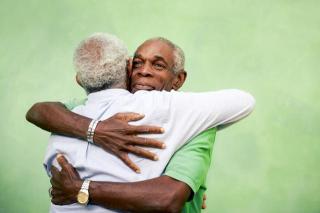 From the moment you hear the words "you have cancer", life changes dramatically. The flood of emotions and decisions can be overwhelming, and it is easy to feel alone—even surrounded by family and loved ones. CanCare has been creating life-changing connections for those facing cancer and their loved ones for more than 30 years.

CanCare matches people currently facing a cancer diagnosis with a cancer survivor to walk alongside you and offer support as you navigate your treatment and the life changes that come with your diagnosis. We also match cancer caregivers and loved ones with support from those that have walked the path of loving and caring for someone with cancer.

Wherever you are in your cancer journey, CanCare is committed to connecting you with a voice of hope.
Join One of Our Virtual Support Groups
Virtual Caregiver Support Group
2nd Friday of each month @ 12 PM Central
At our support group for cancer caregivers, you will hear from one of our CanCare volunteer caregivers and have an opportunity to share your journey with other caregivers – through listening and/or sharing.
Virtual Stage IV Cancer Support Group
3rd Friday of each month @ 12 PM Central
Join us to hear from one of our CanCare volunteer survivors of stage IV cancer and have an opportunity to share the journey with others living with a similar diagnosis.
Some Types of Cancer Support at CanCare
CanCare has volunteers who, combined, have experienced over 50 different types of cancer.
Prostate Cancer
Lung Cancer
Skin Cancer
Liver Cancer
Testicular Cancer
One on One Support FAQs
CanCare support is available to anyone who has been diagnosed with cancer, as well as those who care for someone who loves someone affected by cancer.

All of CanCare's support services are free to cancer patients and caregivers thanks to the generous support of our donors.

CanCare will match you with a cancer survivor or caregiver with similar cancer and treatment history. If there are other specifics you are seeking in your support volunteer, please note that on your request form and we will do our best to find the best match.

Matches are generally made within 2-3 business days after receipt of the request. A CanCare team member will reach out to you if for any reason there is a delay in making a match.

To request a match, complete our match request form. The more information you provide on the request form, the better match our CanCare team members will be able to make. If you have any difficulty completing the form or would like to speak to a CanCare team member, you can call us at 888-461-0028.

For survivors, we match based on type and stage of cancer, treatment, and age. For caregivers, we match based on the relationship to the care receiver (e.g., caregiver to spouse or caregiver to parent) and cancer type. Providing us with this information enables us to find the closest match available.

Yes. We offer emotional support to both cancer patients and their loved ones. Please have your loved one complete the

request for support

or call us at 888-461-0028.

Most of our support volunteers provide support over the phone or online. If you and your support volunteer want to meet in person, you can talk about it together.

Yes. This can be particularly helpful when you are trying to make decisions about treatment, e.g., a mastectomy vs lumpectomy + radiation. In this situation, a person may request a volunteer who chose a mastectomy and a second volunteer who chose a lumpectomy with radiation.
If you wish to request more than one volunteer, please call us at 888-461-0028 and press 2.

Yes, we offer virtual support groups for Caregivers and Stage IV cancer patients. If you are interested in participating in a virtual support group, email us at groups@cancare.org. You can also submit a prayer request by visiting our Prayer Request page or emailing us at prayer@cancare.org.

CanCare stands apart from traditional psychotherapy or counseling by offering a sense of community. We have a passion for providing one-on-one emotional support with a carefully-matched volunteer caregiver or cancer survivor. These survivors are not licensed therapists, but regular people who have walked the cancer journey. We know how important it is to have someone in your corner that has been where you are.

Yes. Your information will only be shared with your support volunteer.

You may call the CanCare office at 888-461-0028 or email us at support@cancare.org. We know the toll the treatment process can take on a person physically, mentally, and emotionally. From phone calls and one-on-one visits to support groups, we are here for you. We're so committed to assisting you every step of the way, CanCare offers emotional support even up to a year after your treatment is completed.