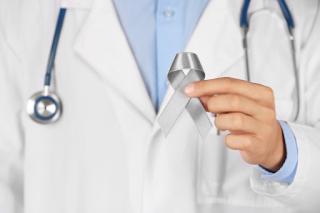 About Brain Cancer
If you or a loved one is facing a brain cancer diagnosis, CanCare is here for you. CanCare can provide support through your journey with brain cancer by connecting you with a survivor who has walked a similar path. If you would like to visit with a survivor,
reach out to us
! We also have monthly virtual support groups you can join where you can be in community with others facing a cancer diagnosis.
If you are a survivor of brain cancer and want to help others through the journey, we would love to have you
join us as a CanCare volunteer
!
What Causes Brain Cancer?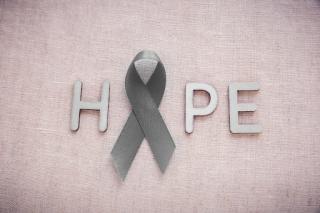 While there is no definitive cause for brain cancer, the risk of developing brain tumors is very low. Risk factors for brain cancer are generally poorly defined, but there are some conditions and factors that can increase your risk for brain cancer:
A compromised immune system
A family history of inherited conditions correlated with rare brain tumors, including Von Hippel-Lindau syndrome, Li-Fraumeni syndrome, or neurofibromatosis
Chemical exposure to certain industrial solvents or other chemicals
Previous radiation treatment
The majority of brain cancer cases are diagnosed in people aged 65 and older. Some cancers, like medulloblastomas, are more common in men, while others, such as meningiomas, are more likely in women. Preliminary cancer research suggests that chemical exposure in the oil refining, rubber manufacturing, and drug manufacturing industries could increase the risk of cancer.
Types of Brain Tumors
According to the National Brain Tumor Society, there are over 120 types of brain tumors. These can range from relatively benign, slow-growing tumors, to more aggressive forms. The most common type of brain tumor is a glioma, originating in the supportive tissue of the brain. Other types include
Astrocytomas
Central nervous system (CNS) lymphomas
Craniopharyngiomas
Ependymomas
Germ cell tumors
Medulloblastomas
Mixed gliomas
Oligodendroglioma
Pineal region tumors
Pituitary adenomas
Pituitary carcinomas
What to Do After a Brain Cancer Diagnosis
CanCare Can Help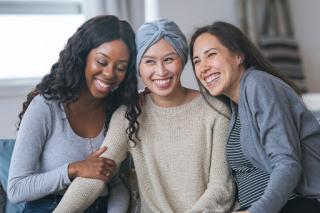 Trying to come to terms with your brain cancer can be a scary, uncertain time. Thankfully, you don't have to face your brain cancer alone.
The cancer support community at CanCare includes both online and in-person brain cancer support groups, support from other brain cancer survivors, and survivorship programs and centers.
CanCare can connect you with a fellow brain cancer survivor who can help you navigate your brain cancer journey. We have a dynamic group of cancer survivors who've been specially trained to provide support. We also have volunteers from a diverse community of brain cancer survivors whose experience can help you frame your own.
Emotional support can powerfully affect cancer treatment outcomes, so connect with a survivor today. Join us for an online support group or give us a call to
get connected with a fellow brain cancer survivor
today.
If you are a stage 4 brain cancer survivor and you are searching for brain cancer support groups online, join us for our online Stage 4 Survivors support group on the 3rd Friday of each month from 12PM – 1PM, Central time. This online support group is dedicated to supporting the survivors of all Stage 4 cancers.
Contact groups@cancare.org for more information and the link for the group.
CanCare also accepts prayer requests for anyone who needs them. If you or a loved one is facing breast cancer,
submit a prayer request
, and we will pray for each person every week!
See what our clients are saying
"I contacted CanCare and spoke to a woman who had faced and won the battle I was fighting. I felt so uplifted and re-energized to continue fighting and accept what was happening."

...

View Full Story
"One morning while in Houston Methodist Hospital for transplant, a CanCare volunteer knocked on the door. He sat and shared with Ron and Ina about his time not just in the same hospital, but in the very same room as Ron! That day they found a new best friend in this CanCare volunteer. Ron and Ina both took a deep breath, seeing a survivor walking and sharing his story and listening to theirs. It was uplifting for both and gave them a sense of hope."

...

View Full Story
"I am a proud supporter of CanCare! Without CanCare, I think I could still be searching for someone that understands my specific challenges and perhaps would still be struggling with how to move forward."

...

View Full Story
"As a client of CanCare and as a caregiver, I felt witnessed and heard. My CanCare mentor-volunteer was actually an ovarian cancer survivor. Usually, CanCare ensures cancer patients are matched up with survivors and caregivers are matched with caregivers. I am grateful to this day for CanCare's creativity in pairing up a volunteer survivor with a caregiver client."

...

View Full Story
"Nargis has been a pleasure to talk to. She is so sweet and kind and I really enjoy hearing about her experience compared to mine."

...
"My Cancare volunteer became my friend I love and appreciate Kim!"

...
"I deeply appreciate your help and talking with Wanda has really been helping me through this diagnosis and in sorting through my thoughts and feelings. She is kind, listens, is very comforting, and a wonderful person."

...
"This is a great program you have. Nothing like support from someone who really knows what you are going through."

...
"I am so grateful and thankful CanCare matched me with Claudette who had kidney cancer in 2001 and has been cancer free all these years. She gave me so much hope and assuaged all my fears about the surgery and outcome. We talked over an hour the first time and we have stayed in touch since my surgery Sept 20. Claudette and I continue in stay in touch and we hope to meet for lunch when I am feeling better. I have already referred a friend to CanCare. She is about to have a double masectomy. Thank You for your program. I am the first in my family to have cancer so had so many questions I forgot to ask the day I received the results of my CT scan."

...
"I am forever grateful for Anthony, Tom, and Greg. All have in their own special ways helped me deal with a very difficult situation. Anthony is my rock. Someone who stays in contact and always provides support and encouragement. Tom reaches out and listens to me, and talking helps tremendously. Amazingly, Greg and I share doctors and have the same cancer. Being able to talk with someone who is on a very similar journey brings me comfort and peace."

...
"My volunteer met with me for several hours over coffee to talk about her fight and answered so many questions I had about my daughter's diagnosis."

...
"I thank you very much for offering this service. It help me when I was overwhelmed with my husband's cancer."

...
"Brenda in Texas is kind and understanding. She gave freedom to contact her anytime. She always gets right back in touch with me. Thank you for having this service available to us cancer patients who live with the unknown. Brenda has wonderful faith that rubs off onto me. Thank you again."

...
"I am just starting my journey with cancer. My volunteer has been great. Thanks for connecting us!"

...
"Wonderful organization and excellent and compassionate service for both staff and volunteers."

...
"My volunteer has been a great help to my wife (tongue cancer)."

...
"She's been a huge blessing to my life, amongst this worldwide crisis. I can't wait to meet her in person when this is all over (or passes us.)"

...
"Trish was the best I couldn't have gone through this without her!"

...
"This is a must! So needed so valuable."

...
"The response by your team when I reached out was immediate and amazing. I felt their interest and caring was totally sincere."

...